"Black Box Music" organizes concerts for superstars such as Rammstein and Westernhagen. The area is a secret world full of explosions, guitars and gold records.
Original Source Berliner Morgenpost
Thanks to Rammstein USA
By Sebastian Blottner
Translated by Murray
Photos by Black Box Music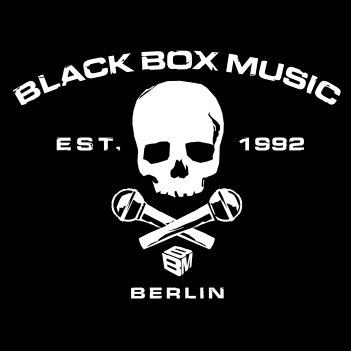 8:30 Whether it's delivery service, business partners or employees – everyone passes by Sandy Blumenstein's reception desk, coming or going. On the wall behind her, gold records of Rammstein, Rosenstolz and Seed are hanging, and the phone rings constantly. At the moment, Blumenstein is busy with the return shipments of the microphones, which have been "on tour". "They're going back to the rental's firm," says Blumenstein. "We do have a large warehouse, but often, we're handling so many tours at the same time, that we need to rent additional equipment."
9:45 "Everyone here needs to know how to operate a forklift," says Lucas Holtmann. He is one of 22 trainees and future event technicians at Black Box Music — BBM, for short — in Wilhelmsruh. He uses the forklift to tow a dolly into position, a transport trailer. "It's been at Rock am Ring and needs to be checked once more before storing." On different levels in Hall 1, light- and sound equipment is stored, as well as trusses and complete "Backlines" for prominent German bands, meaning amplifiers and stage equipment.
10:20 Goborad No 2 hangs. Light technician Nico Miethe writes a note on duct tape and sticks it onto the corresponding Alpha Spot. Six of these spotlights are hanging on a line in front of him. "They are coming from the show with MC Fitti and are due for post processing." The lightning equipment for the largest shows is sometimes programmed for over 50 nights.
11:05 It smells like paint thinner in the Electronics workshop. "We remove old labels and glue residues from the cables with it," workshop supervisor Michael Krause explains. A lot of the equipment is built here at the BBM, for example, power distributors. Co-worker Markus Konrad attaches company stickers and color coding onto a stage cable. "The color coding is important, so you can immediately tell the length of a cable," he says.
11:50 Florian Gäbel shoves a mountain of onions into a pot. "It'll be a vegetarian onion sauce for roasted vegetables," the cook of the canteen says. Besides the employees, the bands that work in the studios and the rehearsal hall, are catered. "And sometimes there are some really special wishes to heed," says Gäbel. "We have to supply organically produced candles, five different sorts of mouthwash or raw milk butter." Others wish the backstage area to be completely draped in white cloths, or having all of the energy saving light bulbs replaced, since the artist's concerned about the mercury.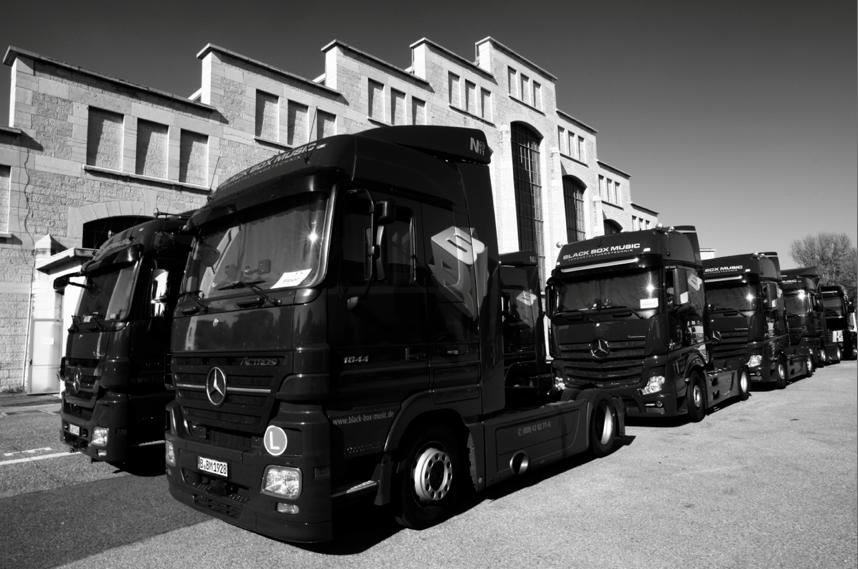 1:30 The head of BBM, Thilo Goos, has remained a rock'n roller at heart. He started Black Box Music in 1992, with two friends, as a small tech-equipment rental. Today, a whole lot of gold- and platinum albums are hanging on the walls of his office. Goos employs 64 permanent staff and 100 freelancers. "I thought that it wasn't enough to just rent out crates and lighting rigs," he says. "You get the complete solution with us. We build the transportation crates, supply the catering, take care of the equipment and organize tours, as we're doing now for the singer, Cher, in the US." In the future, he wants to be in charge of longer, international tours. BBM's truck fleet is being expanded with that in mind. Twelve 40-tonners are on the road with show equipment. Usually, even more, leased trucks are used. "For a big show, you sometimes need 20 to 30 trucks," says Goos.
2:05 The "Viper" makes a short, hissing sound and soon, the portal to the large storage hall disappears into a cloud of smoke. A quick test of the fog machine will have to do, otherwise Lukas Fischer runs the risk of inadvertently alarming the fire brigade. That has happened on occasion and then the company has to pay the bill.
3:10 Nicolai Sabottka presses the "Fire All" button. Promptly, 20 meter-high flames produce a heatwave between the storage- and rehearsal halls. At 32 bars of pressure, isoparaffin from a tank is shot into a small driving flame. Sabottka and his colleagues are fine tuning the "Liquid Flame System". They are the special effects experts and their small company FFP work alongside BBM. "We did Rammstein and now we're doing Marteria," says Sabottka.
4:40 A pungent smell of cigarette smoke meets whoever enters the Nightliner. This coach, with all kinds of extras fitted, transports bands and crews overnight from one show location to another. Up to 18 beds are at their disposal, small bunks, like on board a ship. Besides that, an entertainment system is installed. "There are TVs, a Playstation, three computers and three Dolby Surround Systems aboard," says the mechanic Benny Wutschke. After the stint at Rock am Ring, he has to repair the TV-system. In the living compartments on the upper deck, he pulls a gigantic screen into place in front of the windshield and gets to work.
5:45 In the case workshop, where the transportation crates are being built, Aaron Jaques has just completed a Rohling. "Now I can fit them in with millimeter precision," says the Englishman. But he is far from finished. "I need twelve to thirteen hours per crate. Most of the work is on the interior, that is, the fittings for the mountings, compartments and paddings for gadgets or instruments."
7:35 Special effects, lighting programming and sound settings: there's a lot to rehearse before a big show is ready for the stage. The 900 square meter-large rehearsal hall is rather booked up. Only in the past year, dozens of acts, like Cro, Die Ärtze, Jan Josef Liefers, Max Raabe, Nelly Furtado, Silly and Sarah Connor have passed through here. With 14 meters possible height and a ceiling with the loading capacity for up to 90 tons, the hall allows the recreation of even the largest festival stages. "In connection with the rehearsal weeks, there's often a show given for fans, friends and family," says Jannice Kluck, assistant director of the BBM. "Next up are Marius Müller-Westernhagen and Sido, who are drafting up their joint concert here."
Source: www.rammstein.us