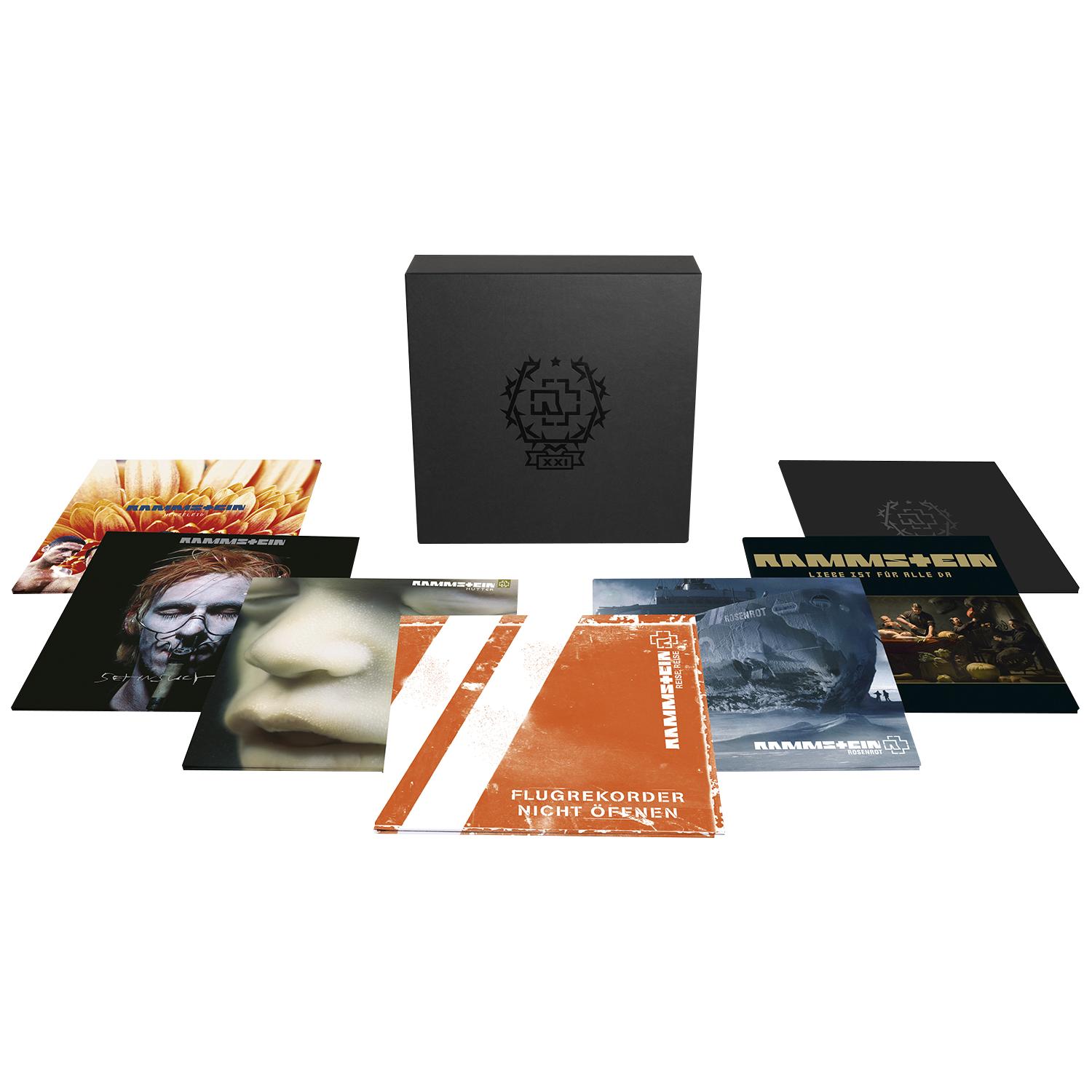 German online merchandise shop EMP.de has put information online for a 14-LP Limited Edition Vinyl Boxset, which Rammstein will release on 4 December 2015.
This box contains all 6 studio albums in 180grams double vinyl gatefold and remastered condition, plus a "Rarities" double vinyl.
This boxset is now avialable for pre-order and will cost € 269,99
Soon you can also pre-order this box from the official Rammstein shop.
Source: http://www.emp.de/art_321606/
Dutch fans can pre-order this box at: http://www.large.nl/art_321606/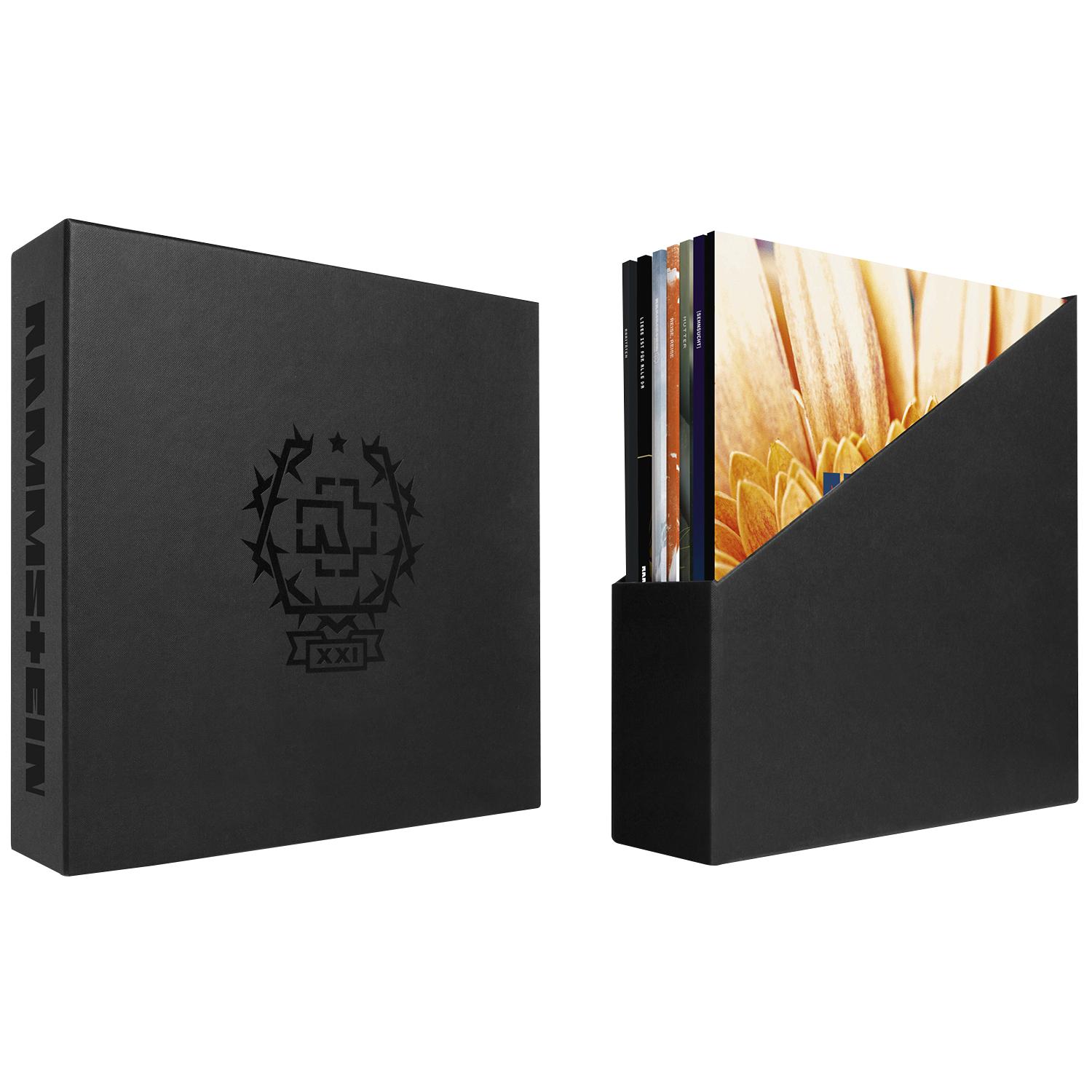 Tracklist – XXI – The Vinyl Box Set
Disc 1
1. Wollt Ihr Das Bett In Flammen Sehen?
2. Der Meister
3. Weisses Fleisch
4. Asche Zu Asche
5. Seemann
6. Du Riechst So Gut
7. Das Alte Leid
8. Heirate Mich
9. Herzeleid
10. Laichzeit
11. Rammstein
Disc 2
1. Sehnsucht
2. Engel
3. Tier
4. Bestrafe mich
5. Du hast
6. Bück dich
7. Spiel mit mir
8. Klavier
9. Alter Mann
10. Eifersucht
11. Küss mich (Fellfrosch)
Disc 3
1. Mein Herz Brennt
2. 2
3. Links 2 3 4
4. Sonne
5. Ich Will
6. Feuer Frei
7. Mutter
8. Spieluhr
9. Zwitter
10. Rein Raus
11. Adios
12. Nebe
Disc 4
1. Benzin
2. Mann Gegen Mann
3. Rosenrot
4. Spring
5. Wo Bist Du
6. Stirb Nicht Vor Mir / Don't Die Before I Do
7. Zerstören
8. Hilf Mir
9. Te Quiero Puta!
10. Feuer Und Wasser
11. Ein Lied
Disc 5
1. Flugzeuglärm
2. Reise, Reise
3. Mein Teil (Album Version)
4. Dalai Lama
5. Keine Lust
6. Los
7. Amerika
8. Moskau
9. Morgenstern
10. Stein Um Stein
11. Ohne Dich
12. Amour
Disc 6
1. Rammlied
2. Ich tu dir weh
3. Waidmanns Heil
4. Haifisch
5. B……..
6. Frühling In Paris
7. Wiener Blut
8. Pussy
9. Liebe ist für alle da
10. Mehr
11. Roter Sand
Disc 7
1. Feuerräder – Single: Engel (Fan Edition), 1997
2. Wilder Wein – Single: Engel (Fan Edition), 1997
3. Das Modell – Single: Das Model, 1997
4. Kokain – Single: Das Modell, 1997
5. Stripped – Single: Stripped, 1998
6. Halleluja – Single: Links 1 2 3 4, 1998
7. Mein Herz brennt (Piano Version) – Single: Mein Herz brennt, 2012
8. Los (Full Band Version) – Album: Reise, Reise, 2004 (Full Band Version – previously unreleased)
9. Führe mich – Album: Liebe ist für alle da, Special Edition, 2008
10. Donaukinder – Album: Liebe ist für alle da, Special Edition, 2008
11. Halt – Album: Liebe ist für alle da, Special Edition, 2008
12. Roter Sand (Orchester Version) – Album: Liebe ist für alle da, Special Edition, 2008
13. Liese – Album: Liebe ist für alle da, Special Edition, 2008
14. Mein Land – Single: Mein Land, 2011
15. Vergiss uns nicht – Single: Mein Land, 2011
16. Gib mir deine Augen – Single: Mein Herz brennt, 2012