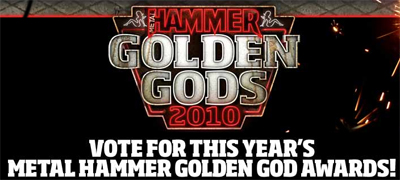 Rammstein is genomineerd voor de Metal Hammer Golden Gods Awards 2010 in de catagorie "Best Live Band", samen met Machine Head, Kiss, Airbourne en Skindred.
Verder zijn ze ook genomineerd in de catagorie "Event of the year", met de video voor Pussy.
Andere genomineerden in deze catagorie zijn o.a. de Nummer 1 hit van RATM met kerst.
Je stem uitbrengen kan hier: http://goldengods.metalhammer.co.uk/